March - 2023
S
M
T
W
T
F
S
1
2
3
4
5
6
7
8
9
10
11
12
13
14
15
16
17
18
19
20
21
22
23
24
25
26
27
28
29
30
31
Upcoming Events
Apr 9th
May 5th
May 14th
May 29th
Jun 18th
Jun 19th
Jul 4th
Sep 4th
Oct 9th
Oct 31st
Little League California District 13
Junior League Standings
Schedule Changes and Other News
Please check this space regularly as we try to reschedule rained out games.
REGULAR SEASON STANDINGS
Click on a Team Name for their page!
Rs = Runs Scored Ra = Runs Allowed Ro = Rain Outs Su = Suspended Pr = Protested
Click on a team name to view their page!
FULL REGULAR SEASON SCHEDULE

#
Date
Time
Field
Visitor Team (Score)
Home Team (Score)
Notes

| | | | | | | |
| --- | --- | --- | --- | --- | --- | --- |
| 1 | Sat - Mar 4 | 12:00 PM | RDV | ERLL REDS (0) | ERLL BREWERS (0) | Suspended |
| 2 | Sat - Mar 4 | 12:00 PM | PHLL | PHLL BRAVES (5) | PHLL DODGERS (9) | |
| 3 | Sat - Mar 4 | 3:00 PM | PHLL | PHLL PIRATES (9) | PHLL MARINERS (10) | |
| 4 | Sat - Mar 4 | 3:00 PM | RDV | ERLL DODGERS (0) | ERLL MARINERS (0) | Suspended |
| 5 | Sat - Mar 11 | 12:00 PM | RDV | PHLL DODGERS | ERLL REDS | Rained Out |
| 6 | Sat - Mar 11 | 1:00 PM | PHLL | ERLL DODGERS | PHLL PIRATES | Rained Out |
| 7 | Sat - Mar 11 | 1:00 PM | Eastside | PHLL BRAVES | ELL PIRATES | Rained Out |
| 8 | Sat - Mar 11 | 3:00 PM | RDV | PHLL MARINERS | ERLL BREWERS | Rained Out |
| 9 | Mon - Mar 13 | 5:15 PM | PHLL | ERLL MARINERS (3) | PHLL DODGERS (13) | |
| 10 | Tue - Mar 14 | 5:15 PM | Sunset | PHLL BRAVES | SLL ANGELS | Rained Out |
| 11 | Wed - Mar 15 | 5:15 PM | RDV | PHLL MARINERS | ERLL DODGERS | Rained Out |
| 12 | Thu - Mar 16 | 5:15 PM | PHLL | ERLL BREWERS (4) | PHLL BRAVES (4) | |
| 13 | Thu - Mar 16 | 5:15 PM | RDV | ELL PIRATES (0) | ERLL REDS (7) | |
| 14 | Sat - Mar 18 | 9:00 AM | RDV | PHLL PIRATES (2) | ERLL REDS (13) | |
| 15 | Sat - Mar 18 | 9:00 AM | Sunset | SLL ANGELS (5) | SLL RAYS (14) | |
| 16 | Sat - Mar 18 | 9:00 AM | PHLL | ERLL DODGERS (0) | PHLL DODGERS (9) | |
| 17 | Sat - Mar 18 | 12:00 PM | PHLL | ERLL BREWERS (13) | PHLL MARINERS (1) | |
| 18 | Sat - Mar 18 | 3:00 PM | PHLL | ERLL MARINERS (5) | PHLL BRAVES (13) | |
| 19 | Tue - Mar 21 | 5:15 PM | Sunset | PHLL DODGERS (0) | SLL RAYS (0) | Score Needed |
| 20 | Tue - Mar 21 | 5:15 PM | RDV | PHLL PIRATES (0) | ERLL MARINERS (0) | Score Needed |
| 21 | Wed - Mar 22 | 5:15 PM | Sunset | PHLL MARINERS (0) | SLL ANGELS (0) | Score Needed |
| 22 | Wed - Mar 22 | 5:15 PM | RDV | ELL PIRATES (0) | ERLL DODGERS (0) | Score Needed |
| 23 | Thu - Mar 23 | 5:15 PM | RDV | ERLL REDS (0) | ERLL BREWERS (0) | Score Needed |
| 24 | Sat - Mar 25 | 9:00 AM | Eastside | ERLL BREWERS | ELL PIRATES | |
| 25 | Sat - Mar 25 | 9:00 AM | PHLL | ERLL DODGERS | PHLL PIRATES | |
| 26 | Sat - Mar 25 | 9:00 AM | Sunset | PHLL BRAVES | SLL RAYS | |
| 27 | Sat - Mar 25 | 12:00 PM | PHLL | ERLL MARINERS | PHLL MARINERS | |
| 28 | Sat - Mar 25 | 3:00 PM | PHLL | SLL ANGELS | PHLL DODGERS | |
| 29 | Tue - Mar 28 | 5:15 PM | PHLL | PHLL MARINERS | PHLL BRAVES | |
| 30 | Tue - Mar 28 | 5:15 PM | Sunset | PHLL PIRATES | SLL RAYS | |
| 31 | Tue - Mar 28 | 5:15 PM | RDV | ERLL REDS | ERLL MARINERS | |
| 32 | Wed - Mar 29 | 5:15 PM | Sunset | ELL PIRATES | SLL ANGELS | |
| 33 | Wed - Mar 29 | 5:15 PM | RDV | ERLL BREWERS | ERLL DODGERS | |
| 34 | Sat - Apr 1 | 9:00 AM | PHLL | SLL ANGELS | PHLL PIRATES | |
| 35 | Sat - Apr 1 | 9:00 AM | RDV | ERLL REDS | ERLL DODGERS | |
| 36 | Sat - Apr 1 | 9:00 AM | Eastside | ERLL MARINERS | ELL PIRATES | |
| 37 | Sat - Apr 1 | 12:00 PM | PHLL | SLL RAYS | PHLL MARINERS | |
| 38 | Sat - Apr 1 | 3:00 PM | PHLL | PHLL BRAVES | PHLL DODGERS | |
| 39 | Tue - Apr 4 | 5:15 PM | RDV | ERLL DODGERS | ERLL MARINERS | |
| 40 | Tue - Apr 4 | 5:15 PM | Sunset | ERLL REDS | SLL RAYS | |
| 41 | Tue - Apr 4 | 5:15 PM | PHLL | PHLL PIRATES | PHLL DODGERS | |
| 42 | Wed - Apr 5 | 5:15 PM | Sunset | ERLL BREWERS | SLL ANGELS | |
| 43 | Wed - Apr 5 | 5:15 PM | PHLL | ELL PIRATES | PHLL BRAVES | |
| 44 | Tue - Apr 11 | 5:15 PM | PHLL | PHLL BRAVES | PHLL PIRATES | |
| 45 | Tue - Apr 11 | 5:15 PM | Eastside | SLL RAYS | ELL PIRATES | |
| 46 | Tue - Apr 11 | 5:15 PM | RDV | ERLL MARINERS | ERLL BREWERS | |
| 47 | Wed - Apr 12 | 5:15 PM | RDV | SLL ANGELS | ERLL REDS | |
| 48 | Wed - Apr 12 | 5:15 PM | PHLL | PHLL DODGERS | PHLL MARINERS | |
| 49 | Sat - Apr 15 | 9:00 AM | Sunset | ERLL DODGERS | SLL RAYS | |
| 50 | Sat - Apr 15 | 12:00 PM | Sunset | ERLL MARINERS | SLL ANGELS | |
| 51 | Sat - Apr 15 | 12:00 PM | PHLL | ERLL REDS | PHLL DODGERS | |
| 52 | Sat - Apr 15 | 3:00 PM | PHLL | ERLL BREWERS | PHLL PIRATES | |
| 53 | Sat - Apr 15 | 9:00 PM | PHLL | ELL PIRATES | PHLL MARINERS | |
| 54 | Tue - Apr 18 | 5:15 PM | PHLL | PHLL MARINERS | PHLL PIRATES | |
| 55 | Tue - Apr 18 | 5:15 PM | Eastside | PHLL DODGERS | ELL PIRATES | |
| 56 | Tue - Apr 18 | 5:15 PM | RDV | SLL ANGELS | ERLL DODGERS | |
| 57 | Wed - Apr 19 | 5:15 PM | RDV | SLL RAYS | ERLL BREWERS | |
| 58 | Thu - Apr 20 | 5:15 PM | RDV | PHLL BRAVES | ERLL REDS | |
| 59 | Sat - Apr 22 | 9:00 AM | RDV | SLL RAYS | ERLL MARINERS | |
| 60 | Sat - Apr 22 | 9:00 AM | Eastside | PHLL PIRATES | ELL PIRATES | |
| 61 | Sat - Apr 22 | 9:00 AM | PHLL | ERLL BREWERS | PHLL DODGERS | |
| 62 | Sat - Apr 22 | 12:00 PM | PHLL | ERLL DODGERS | PHLL BRAVES | |
| 63 | Sat - Apr 22 | 12:00 PM | RDV | PHLL MARINERS | ERLL REDS | |
| 64 | Tue - Apr 25 | 5:15 PM | Eastside | ERLL REDS | ELL PIRATES | |
| 65 | Tue - Apr 25 | 5:15 PM | RDV | PHLL PIRATES | ERLL BREWERS | |
| 66 | Tue - Apr 25 | 5:15 PM | PHLL | SLL ANGELS | PHLL BRAVES | |
| 67 | Wed - Apr 26 | 5:15 PM | PHLL | ERLL DODGERS | PHLL MARINERS | |
| 68 | Wed - Apr 26 | 5:15 PM | RDV | PHLL DODGERS | ERLL MARINERS | |
| 69 | Thu - Apr 27 | 5:15 PM | Sunset | ELL PIRATES | SLL RAYS | |
| 70 | Sat - Apr 29 | 9:00 AM | PHLL | ERLL MARINERS | PHLL BRAVES | |
| 71 | Sat - Apr 29 | 9:00 AM | RDV | PHLL PIRATES | ERLL REDS | |
| 72 | Sat - Apr 29 | 9:00 AM | Sunset | SLL RAYS | SLL ANGELS | |
| 73 | Sat - Apr 29 | 12:00 PM | RDV | PHLL DODGERS | ERLL DODGERS | |
| 74 | Sat - Apr 29 | 12:00 PM | PHLL | ERLL BREWERS | PHLL MARINERS | |
| 75 | Tue - May 2 | 5:15 PM | Eastside | ERLL DODGERS | ELL PIRATES | |
| 76 | Tue - May 2 | 5:15 PM | PHLL | SLL RAYS | PHLL DODGERS | |
| 77 | Tue - May 2 | 5:15 PM | RDV | ERLL BREWERS | ERLL REDS | |
| 78 | Wed - May 3 | 5:15 PM | PHLL | SLL ANGELS | PHLL MARINERS | |
| 79 | Thu - May 4 | 5:15 PM | PHLL | ERLL MARINERS | PHLL PIRATES | |
POST-SEASON PLAYOFF SCHEDULE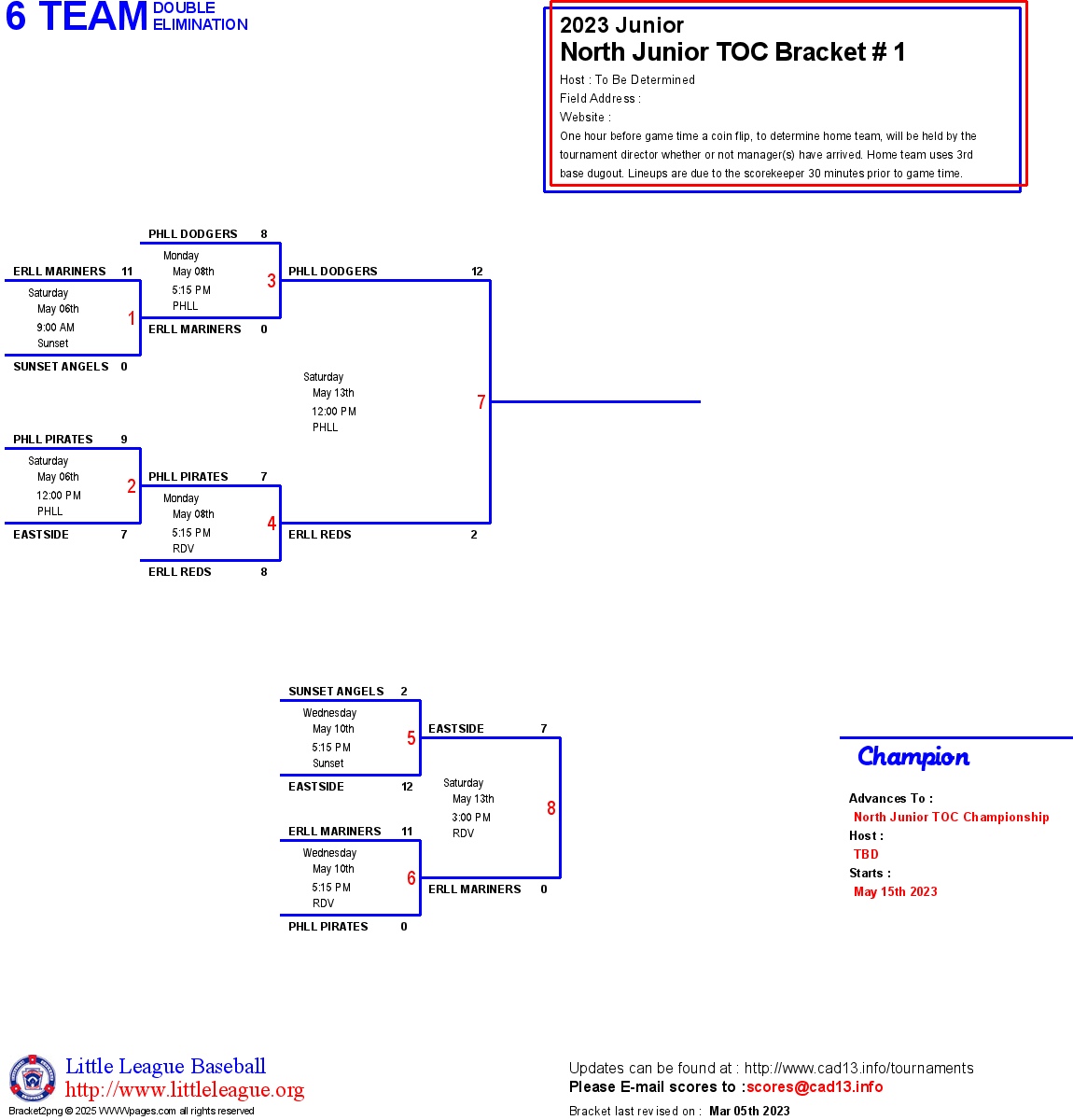 ---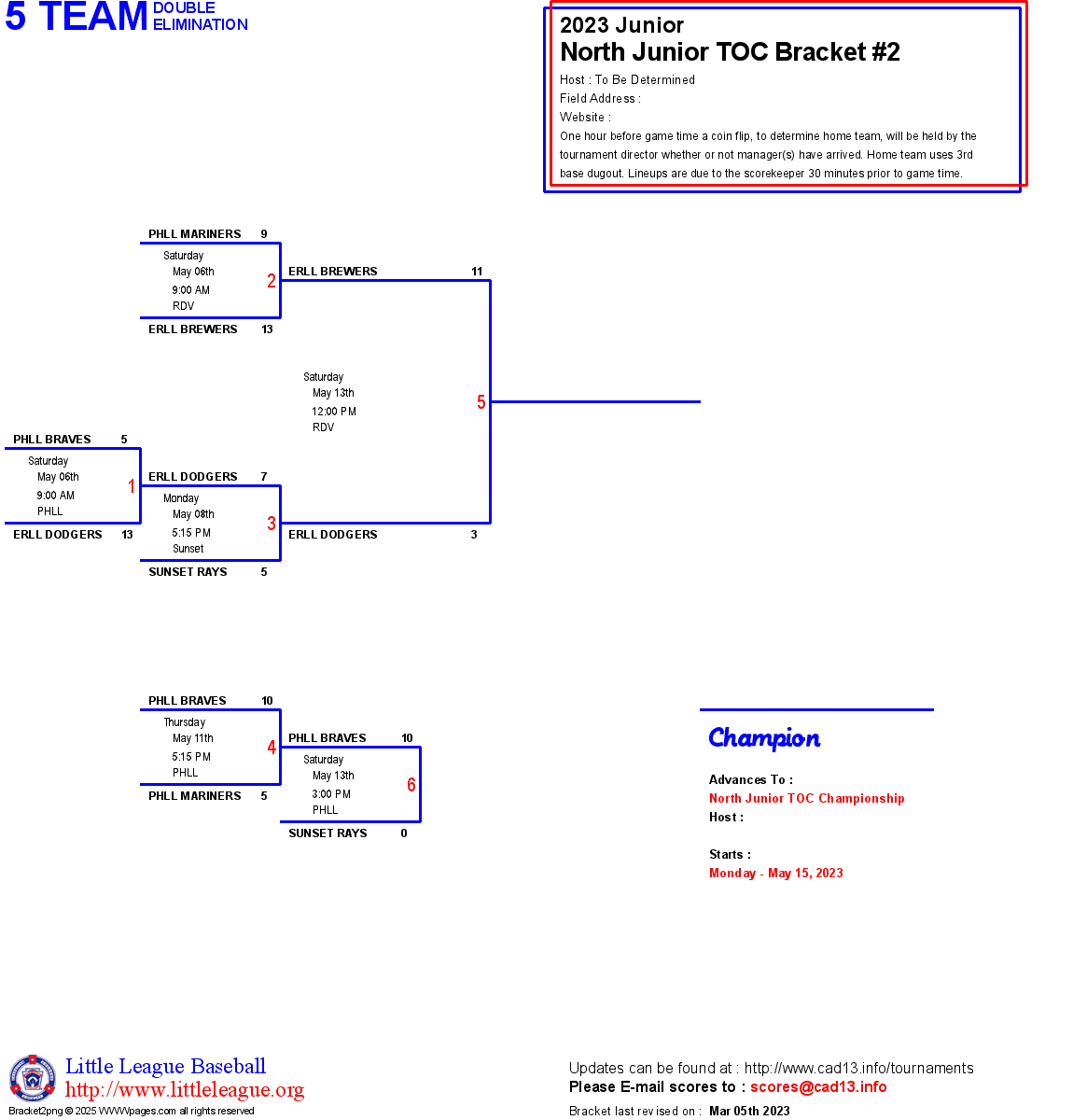 ---